Aix Files
by Stephanie Rosenbaum
Dine & Travel Section San Francisco Bay Guardian 11.06.96

Despite being less than half a block off Chestnut Street, Bistro Aix eschews the bright lights and buzz of other popular Marina eateries for candlelight and a comfortable neighborhood ambiance...
A patio out back is dotted with tall heat lamps that should make all-weather alfresco dining comfortable even on foggy nights... When it comes to food, however, Bistro Aix is right on target. Named for the Aix-en-Provence, in southern France, Bistro Aix is nonetheless more Californian than French in its influences, with an emphasis on salads, grilled meats, and straight forward flavors...
(continued below)
San Francisco Bay Guardian•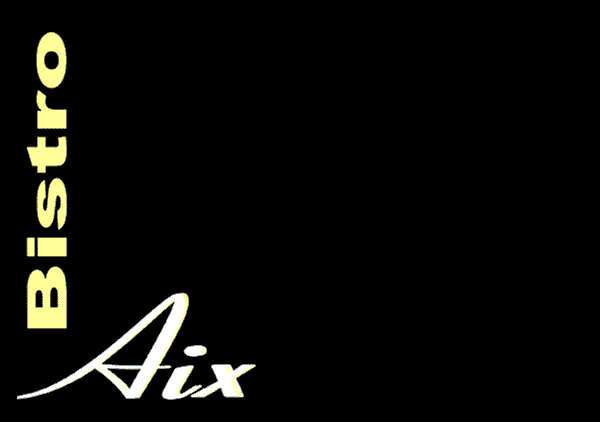 Both the lamb and the sirloin could be contenders for the Red Meat Ranger's Hall of Fame: seared and tasting deliciously of the grill on the outside; tender, pink, and richly flavored within. The generous slices of lamb are fanned out over a heap of garlic-scented mashed potatoes and a handful of shiny spinach leaves, slightly undercooked so that the stems still crunch. The steak, sliced in the same manner, comes with a wonderful and not over-tomatoed ratatouille...

Desserts are held to an equally high standard. Although the slender slice of tarte Tatin is dwarfed by the tennis ball sized lump of vanilla bean ice cream accompanying it, the apples are meltingly tender and lusciously spiced, and the puff pastry crust is crispy and light...Chowing down on steak and cheesecake, it's hard to imagine how Aix's clientele stays skinny enough to wedge into those little chairs. Still...I'll be coming back.
The easy pleasures of ripe tomatoes and slurpy peaches with their yielding flesh and heady perfume have given way to the earth bound harvest of squashes and roots, which reward slow cooking and painstaking preparation with rich, earthy mouthfuls...
Grilled pear salad with bitter greens and gorgonzola sounds like an irresistible combination. As it turns out, its good..toasted, still warm walnuts are the best part. It's the same with the baby spinach salad: the little green leaves are crisp and sprightly, decorated with dollops of goat cheese and crunchy roasted pecans...As for the pizza, they're not kidding about the cracker crust. The crust is indeed thin but miraculously sturdy enough to hold up to a generous topping of grilled eggplant, sweet peppers, onions and goat cheese.
(continued below)